Please Return To Tiffany & Co Sterling Silver Oval Tag Choker Necklace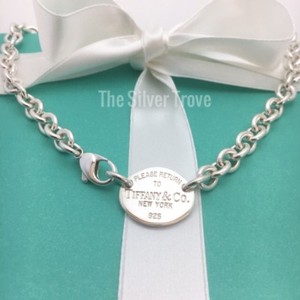 ---
Guaranteed 100% Authentic Tiffany & Co Please Return To Tiffany Oval Tag Necklace

I have 2 of these, both in the amazing condition pictured.

15.5" from end to end

Pendant measures .90" x .70"  (22.5mm x 18mm)

52 grams of solid 925 sterling silver

Beautiful Piece for you or a special lady!

In 1969 Tiffany & Co started the "Please Return to Tiffany" collection by engraving unique serial numbers on key ring charms so that should the owners every lose their keys Tiffany would know who to return them to... Love it!!

Box not included but Tiffany packaging may be available (see below).We have 100's of more items in our  store here ➡ http://stores..com/thesilvertrove-

Where do we get all our Tiffany & Co Pieces???

We deal only with Tiffany jewelry because we love it more than any other designer brand out there!! We scour antique shops, estate sales, online & local auction houses, newspaper listings, garage sales and any other avenue we can find Tiffany items.  Because we only deal with Tiffany, we have become very good at spotting fakes & sub-par repairs.

Do we include Tiffany boxes & pouches in all our listings?

Unfortunately we don't have enough to do that.  The items description will let you know what is included, but we typically do have boxes & pouches available for purchase if you visit our store "http://stores..com/thesilvertrove/".  If you would like a free box or pouch and don't mind it being in noticeably used condition, send us a message in the "Note to Seller" box at check-out and ask us for a used box or pouch.  Chances are we can include one.

Why are almost all of our Tiffany items in such amazing shape???

Before we list any piece of Tiffany we scrutinize it for authenticity and check it for damage or poorly performed repairs. Fake pieces are destroyed and sold for scrap, and anything in need of repairs goes to our jeweler.  If a piece is only in need of a good polish, we'll soak it, clean it, and then buff out any surface scratches to restore the original beautiful luster.

1-Day Shipping

For USPS overnight 1 business day shipping we must have your paid order no later than 2:00pm Eastern Time (or before the cutoff time shown on the  listing page) whichever comes first .  Additionally, if you choose 1-day shipping and then return the item, the 1-day shipping fee will not be refunded unless we misrepresented the item.

THANKS AND WE HOPE YOU LOVE YOUR TIFFANY!!International Buyers – Please Note: 

If you are looking to purchase multiple items please contact us prior so that we can combine listings and save you money on shipping, Global Shipping will not allow us to combine orders in to one box when going International.  Import duties, taxes & charges are not included in the sale price for international buyers.  Return shipping costs for items purchased from outside the US are the buyers responsibility unless we somehow misrepresented the item.