240g Standard Candles - Scented & Fragranced 100% Natural Soy Way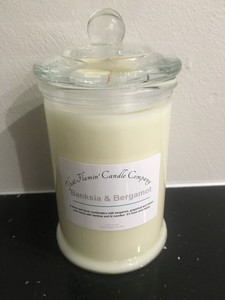 ---
Welcome to That Flamin' Candle Company!240g* Standard Candles - 100% Natural Soy Wax

We specialise in making 100% natural soy wax candles and melts, in various different products and fragrances to suit your needs! 

All candles & melts are uniquely homemade by hand in Australia and are guaranteed to fill your home/office with the fragrance of your choice! To order, simply select your fragrance and purchase your desired quantity above. If ordering multiple quantities, please ensure you specify how many of each fragrance you require in the Qty section. 

Fragrances include:
| | |
| --- | --- |
| Australian Sandalwood | A rich woody blend with a touch of sweetness, a true to life aroma |
| Bergamot & Banskia | A citrus and floral combination with bergamot, grapefruit and lemon zest mixed with banksia and fir needles. It's fresh and classy. |
| Coconut Cream | A delicious summer fragrance of whipped cream and coconut topped with freshly toasted coconut sprinkles. |
| Japanese HoneySuckle | A sweet flowering vine with one of the most loved floral scents |
| Shave & a Haircut | A masculine scent with clean, sharp finish.  It's the perfect combination of barbershop aromas.  This fragrance combines the scent of a strong yet sweet aftershave along with hints of aromatic spices and orange zest. |
| Ambience | A relaxing blend of sandalwood, rose, sweet pea and jasmine. |
| Baby Powder | A classic powdery fragrance that smells like – well – baby powder!! |
| Lychee & Black Tea | A delicate fragrance of infused black tea leaves and the soft, sweet smell of lychees. It is sure to become one of your favourites. |
| Moroccan Spice | A rich, exotic fragrance of fresh cinnamon and Moroccan clove blended with a kiss of spice. A beautiful winter warmer |
| Persian Spice | Sandalwood and patchouli create a base for clove bud and cardamom in this exotic, spicy blend. |
| Riberry & Mint | This fragrance combines orange and peppermint which blends with jasmine, and balances with a base of vanilla with fresh raspberry |
| L'Occitane Verbena Type | A faithful reproduction of a favourite fragrance with lemon, lime and peach with a base of rose geranium. So good! |
| Mango & Papaya | A mouthwatering fruity blend of tropical mango and papaya. |
| Orange & Bergamot | A blend of juicy orange and bergamot, with hints of rosewood and pine needles give this fragrance a fresh scent throw that makes you want to keep inhaling it. |
| French Vanilla Bourbon | A refined vanilla fragrance, with a rich scent of vanilla bean, musk with hints of amber and malt. For those that don't like their vanilla fragrance to be too sweet. |
240g* Standard Candles - 100% Natural Soy Wax
This stunning collection of soy candles are hand poured from the finest renewable soy waxes and feature cotton (lead free) wicks giving a clean long and eco-friendly burn.
Why Soy Wax?
Paraffin wax is commonly used in candles, but soy candles are another option on the market. While soy candles look and smell similar to their paraffin counterparts, they offer distinct advantages. Not all soy candles are created the same way, however. While some limit unnecessary chemicals, others include additives or are blended with paraffin wax. Rest assured that soy candles and melts made by That Flamin' Candle Company use only 100% natural soy wax derived from sustainable soybean farms, we don't use paraffin wax or blend our waxes with any other product (other than fragrances!)
Natural
Soy candles are made from soybeans, a natural, renewable source grown in many regions by local farmers. Paraffin candles are made from petroleum, which is a nonrenewable source that contains carcinogenic substances. These substances of paraffin wax may be released into the air while burning. Using candles made from soy supports local agriculture and farmers, allowing them to make money and grow their operations. It's also better for your home environment!
Cleaner Burning
A candle made from soy wax burns cleaner with little soot released as the candle burns. Paraffin candles often create a significant amount of black soot that collects on the jar, as well as on your walls and other surfaces of the home. The soy candle may accumulate some black soot on the jar, but the amount is much less than paraffin candles. Soy candles are also non-toxic, so they won't release toxins into the air as they burn. Make sure you trim your wicks once your done burning to prevent black soot and 'mushrooming' of the wick!
Longer Lasting
Soy candles typically last longer than a paraffin candle of the same size. The reason behind the longevity of soy candles is the slower burning time and cooler burning temperature of the soybean-based wax. You may pay more for a soy candle initially, but the longer-lasting burn means you won't have to buy new candles as often. Soy wax is also biodegradable, making it an investment that benefits the environment. 240g Standard Candles from That Flamin' Candle Company are expected to burn for >40 hours, however this cannot be guaranteed due to variations caused by candle placement in your home.

Better Scent

A soy candle works well for holding onto the scent from essential oils, which are often used to scent candles. Because they burn more slowly, the scent is gradually released; there won't be an immediate wave of strong scent. This creates a more pleasant atmosphere for most people.

Standard candles are great full size candles that will fill your entire room with the opulent fragrance of your choice, coupled with an extended burn time when compared to our miniature candle range!  Why not collect them all and find your favourite? You can create your own unique fragrances by lighting different scented miniature candles at the same time!  Be creative and experiment!

Treat your candles with the love they deserve by following a few simple safety precautions that will ensure that you get the very best each time you use them.

TRIM THE WICK

Before lighting always trim the wick to 6mm and remove any wick debris as this encourages an even burn.

AVOID DRAUGHTS

Candles burn best in still air but if you can't avoid draughts, turn the candle periodically to avoid uneven burning and possible candle collapse. A candle in a draught may also start to smoke.

PUTTING CANDLES OUT

Use a candle snuffer to prevent wicks from drifting offcentre and to avoid wax splash. This will help to maximise the candle's burn time. Blowing out a candle is not recommended as the liquid wax may splatter and the wick may continue to glow and emit smoke. 

CANDLE DISPLAYS

When creating decorative candle displays, candles should be separated from each other by a minimum of 10cm to prevent burn problems. Candles that are burnt too close together will affect each candle's burn quality, which may cause candles to collapse and not burn to their maximum burn times.

CANDLE STORAGE

Candles are sensitive to temperature and light. Avoid candles from fading, cracking and melting by storing your candles in a cool, dry place, away from direct sunlight, dust and fluorescent light. Store your candles in an upright position and don't leave your candles in your car on a warm day.

WICKS

Regularly trim your wicks. We use 100% cotton, lead free wicks. Sometimes you will notice a 'mushrooming' of the wick. To provide the cleanest burn possible, we recommend you remove the black 'mushroom' before burning and periodically during the burning. Failure to do this may lead to a "Wax Pool Fire" (in Containers and sometimes Votives) where the entire candle may appear to ignite. This is caused when a hot piece of untrimmed wick drops into the melted wax pool and ignites it.

Preventing the "mushroom" effect by regularly trimming the wick and not burning any candle for longer than the maximum recommended burn time will prevent this from occurring.

In the event of a Wax Pool Fire, do not throw water onto it as this will cause the candle to "explode" due to the water suddenly turning to steam on contact with the hot wax. The candle should not be moved or touched while the wax is on fire. Either blow it out, cover with a fire blanket or use a fire extinguisher. 

To get the maximum burn times from your candles, you need to set the candle memory. To set the candle memory, burn the candle for one hour for every 2.5cm of its diameter the first time the candle is lit. This will allow the pool of wax to extend to the outside rim and prevent the candle from forming a crater. Each time the candle is lit after setting the memory, the candle will burn out to the rim.  Never burn a candle for longer than three - four hours at a time. If a candle is burnt for excessive periods without being allowed to re-solidify, even the best candle can burn out the sides because of excessive heat.

If a fragrance you are seeking isn't listed, please let us know and we can endeavour to get this for you!

*Weights are approximate and may vary as each candle is individually hand made and subject to variation.

Fragrances are constantly changing, so make sure you keep checking back to see which ones are available for immediate dispatch! Have a favourite fragrance that isn't listed? Let us know and we may be able to order it especially for you! 

Email: thatflamincandlecompany@gmail.com

Find us on Facebook: www.facebook.com/thatflamincandlecompany

Want to influence our fragrance selection? 

Take our short survey to tell us what fragrances you want to see in our product range:

http://www.surveymonkey.com/r/XWHYQ9T

Your Delightful Fragrance Awaits....